The foil is the core of the laminate and gives the laminated glass its special properties. Depending on the desired end product, the foil must have the necessary thickness, colour, transparency and function (sound insulation, translucency, etc.). The product portfolio thus determines the layout of the foil warehouse and the optimal organisation of the pre-laminate.
What are the uses of different types of foil?
POLYVINYLBUTYRAL (PVB)

ETHYLEN-VINYLACETAT (EVA)

This transparent, thermoplastic foil is often used in safety glass. PVB foils have excellent bullet resistance and can bind shards and keep the glass in one piece. Therefore, they are often used in automotive or building security glass.

This foil is laminated autoclave-free under the influence of heat and cross-links to an irreversible state. This cross-linking prevents the foil from losing its stiffness and softening under the influence of wind and heat. EVA is used for solar modules and in interior glass.

SENTRYGLAS PLUS (SGP)

THERMOPLASTIC
POLYURETHANE (TPU)

This foil is made of a thermoplastic (Ionoplast) that is up to 5x stronger and 100x stiffer than conventional PVB interlayers. This allows laminated safety glass to be thinner and lighter, while still meeting the same safety requirements as thicker PVB laminates. SGP is often used when maximum safety and durability are required, for example in bridges and roofs.

TPU is another type of intermediate foil that can be laminated with e.g., polycarbonate at very low temperatures. TPU is used when the protection of people and property from natural or man-made threats is of utmost importance. Areas of application include bullet-resistant glass, electronic glass, or windscreens on aircrafts.
The most used foil types are polyvinyl butyral (PVB) and ethylene vinyl acetate (EVA). About 85-90% of laminated glass production worldwide uses PVB foils, about 10-15% EVA foils. Depending on the region and application, these figures may vary.
A comparison of the most common types of foil
Foil type

PVB

EVA

SGP (SentyGlasPlus)

TPU

Chemical composition

Polyvinylbutyral

Ethylen-Vinylacetat

Ionoplast- Ethylene- Methacrylic

Thermoplastic Polyurethane

Molecular structure

Thermoplastic

Cross-linking

Partially
cross-linking

Thermoplastic

Suitable for overhead glazing

Yes

Partially

Yes

Partially

Properties

Relatively soft and flexible, energy absorbing

Excellent clarity and toughness

Robust and stiff with excellent post-fracture resistance

Elastic and highly resistant to abrasion

Water vapour permeability [g/sqm day]

40 – 60

Approx. 30

Approx. 1

200 – 1000

Storage

Climate room: < 30 %/20 °C

Not hygroscopic

Climate room: < 20 %/20 °C

Not hygroscopic

Period of use

Not critical

< 6 months

Less critical

Not critical

Available as

Roll

Roll

Roll or sheet

Roll

Laminate process at

135 °C

150 °C
without autoclave

140 °C
Fast cooling

80 – 130 °C
Correct storage – Crucial for quality
Especially with hygroscopic (ambient moisture-binding) foil types, accurate moisture control is required for good adhesion between PVB foil and glass. PVB material is supplied with 0.45 % moisture in the foil. For optimal adhesion, the foil must be processed in a climate-controlled environment with less than 30 % humidity and at less than 20 °C. With SGP, a moisture content of more than 0.2 % already impairs the use. To maintain the quality of these foil types during storage, they must be properly stored in a climatic clean room.
It is worth paying attention to these factors
Expiry date: Foils have an expiry date that must be considered.
Climatization: Temperature and humidity influence the adhesion and stretchability of the foil. In the climatic clean room, the temperature must be kept between 16 °C and 20 °C and the relative humidity between 22 % and 30 %, depending on the type of foil.

Storage conditions:

Original packed foils with an intermediate foil layer made of PE can usually be stored up to max. 30°C. For foils without an intermediate foil layer, permanent cooling must be provided.

Acclimatisation:

It is recommended to let the foil acclimatise after opening and before use in the foil magazine/storage.






How does the foil get to the glass?
There are several ways to access the foil storage: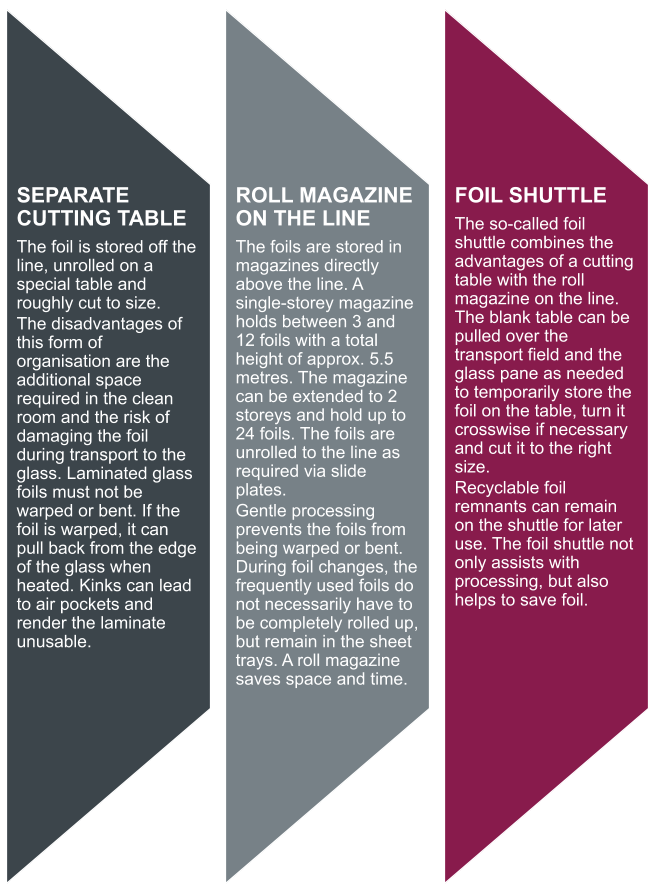 Did you know that…?
Simple tips to save foil
In general, the main cost factor of laminated glass is the glass sheets, which often go through various processing steps. However, depending on the type, quality and thickness of the foil used, foil costs can account for between 10 and 20 % of the total cost of laminated glass production. It therefore makes sense to optimise foil consumption.
Optimised roll storage
Foil rolls are offered in various widths. PVB is available in rolls from 600 – 3200 mm, SGP from 600 – 3300 mm, depending on the supplier. To optimise waste, the foil magazine can contain different widths of the same foil, which are used depending on the glass format. An additional option is to rotate the foil 90° to obtain the correct width.
Recycling of foil cuttings
Recycling foil offcuts can help to reduce foil consumption by reintroducing these foil remnants into the production process.
Optimisation of the cutting technology
Precise, efficient cutting technology can help reduce foil consumption. One option is the LiSEC Cross Cut, a cutting blade that either manually or automatically separates the unrolled foil from the roll by a longitudinal cut.
Conclusion
Knowing the different properties and requirements of common foil types is critical to producing optimised laminated glass products that offer features such as safety, soundproofing, UV protection and durability. The most used foil types are polyvinyl butyral (PVB) and ethylene vinyl acetate (EVA). When designing the foil storage, the number of foils to be processed, the climatic requirements of the respective foil type, as well as an ergonomic access option must be considered.
*The figures given in this article are indicative only.

Read more on the topic: