Lisa Kronberger has been working as a Sales Assistant with us since February 2018. In her leisure time Lisa pursues a particularly interesting hobby: Downhill and Enduro. How she started with it and which competitions she takes part in, is best explained in her own words:
Lisa, how did you become interested in this hobby?
Lisa: Three and a half years ago we took part in a trip to Leogang with the running and cycling club that I am a member of – that was when I tried downhill riding for the first time. It was love at first turn of the wheel! Just a few months later I bought my first downhill bike and shortly after that, an enduro bike too. I had ridden a mountain bike before that.
What is the difference between a downhill bike, an enduro bike and a mountain bike?
Lisa: With a mountain bike you can ride uphill and downhill and the forks and dampers can be locked. Both features are possible with the enduro too, but it has more spring travel and different geometry and so it is more oriented towards downhill than the mountain bike. A downhill bike is very hard work to pedal uphill and so it is really only suited to downhill biking.
Are there competitions in this field of sport?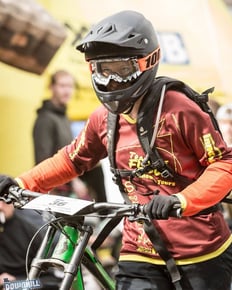 Lisa: Yes, and I also take part in amateur enduro and downhill competitions or races. Shortly after I bought the downhill bike I took part in a downhill competition with it at the Attersee lake and finished runner-up. The coolest race for me so far was the 24-hour downhill race at Semmering two years ago, where I was an individual starter. For this event, competitors first travelled up the mountain for three minutes in a gondola with the bike on the side and then took approx. four minutes to ride down on the downhill bike. That process was then repeated – as the name suggests – for 24 hours.
Wow – 24 hours continuously?
Lisa: Yes. Of course it's possible to take short breaks, but they should be avoided if possible. After all, the idea is to do as many downhill runs as possible in this time.
What is the most fun for you with this hobby?
Lisa: The adrenaline kick and to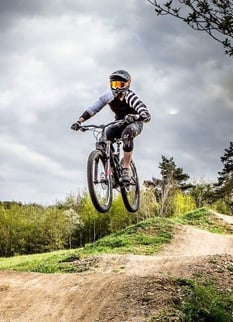 be able to practise this sport in the great outdoors. I love breathing in the fresh air, feeling the roots under my wheels, and the feeling of freedom. Also, I can pursue this hobby together with my boyfriend, whom I also met at a competition. A nice side effect is that I have finally found a type of sport that I am better at than my sisters :)

Where do you do your downhill or enduro racing?
Lisa: I have a season ticket for the gondolas at all of the bike parks in Austria and Switzerland. My favourite areas are Schladming in Austria, Geißkopf in the Bavarian forest in Germany and in the Špičák bike park in the Czech Republic. I was also the ambassador for the 'Specialized' brand in 2016 and 2017, which bikes I also ride, and I went on trips with women in order to promote that type of sport amongst women.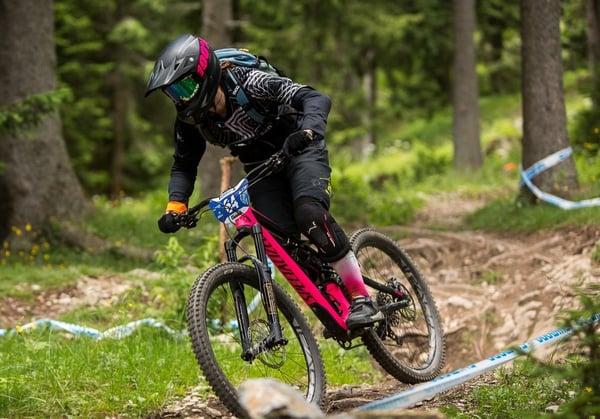 Is there an experience that you have a particularly fond memory of?
Lisa: In France I successfully made a really great, long and very difficult jump - a so-called "river gap". You have to jump over a stream. Unfortunately, I can't remember the exact distance of the jump any more, but it was several metres and it took a lot for me to overcome it – time and again people land in the stream if they don't jump far enough.
Thank you Lisa for this interesting interview and we wish you all the best with your future competitions!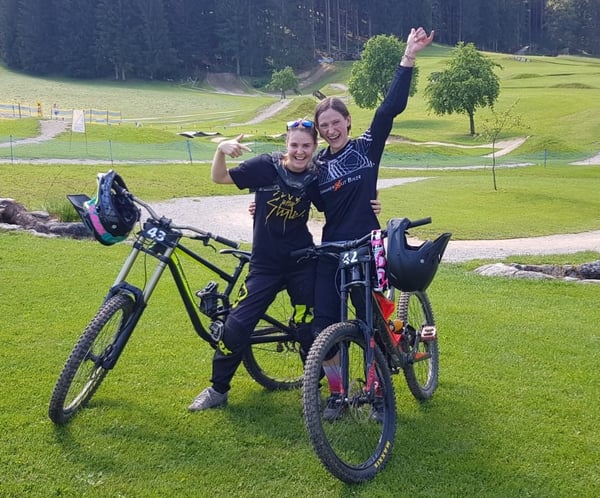 Lisa Kronberger (on the right) before the 24-hour downhill race